Delicious Prime Rib
Tonight for Christmas dinner we cooked prime rib. It turned out delicious! I probably should have left it in the oven about 10 more minutes. Here is some documentation of how I cooked it in case you're interested, and for my own later reference.

This was the recipe I used and modified slightly. We bought 4 pounds of prime rib at Whole Foods, which was 2 bone-in ribs/steaks. We were feeding 7 people. This worked out fine, but I would like to have an extra rib next time for the same number of people.
For the seasoning rub (which turned out amazing) I added some Montreal steak seasoning to the four ingredients included in the recipe: coarse sea salt, onion powder, garlic powder, and pepper. I didn't baste the sides during cooking. For our 4 pound roast, I cooked it 15 min at 425 degrees and then 1 hour, 15 minutes at 325. The meat thermometer read 130 at the end of the cooking time. I covered it with foil and let it rest for 20 minutes after that. As I said it turned out amazing, but since we had several people who like more well done meat it would have been good to leave it in the oven just a touch longer.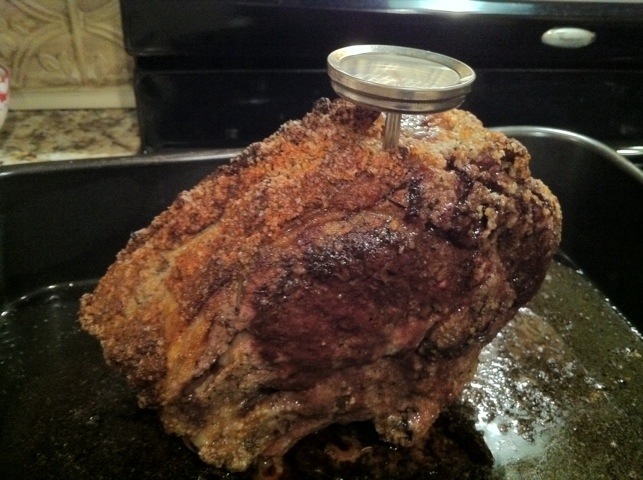 I cut it with our electric knife which worked great. To keep the meat hotter before serving, however, next time I'll try to have all other items ready for our plates before cutting the prime rib.